Use Adobe Reader to open and print PDF files
All rulers and graph paper on PrintARuler.com are available in PDF format. To open and print PDF files you need to download and install Adobe Reader (free). PDF is a very common document format on the internet.

Download Adobe Reader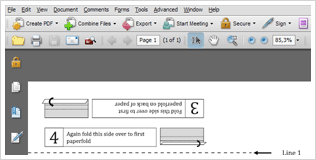 What paper weight to use
Normal printouts are usually done on 80gsm or 90gsm paper. This weight is suitable for both the foldable ruler and graph paper.

For the foldable ruler, however, you should not go higher than about 180gsm because it becomes hard to fold the paper at higher weights. Also, the sides of the ruler is likely to tear and get rough when folding.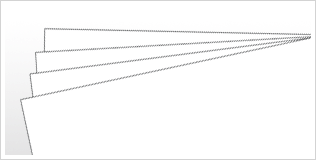 Printing a PDF with Adobe Reader
In Adobe Reader click the print icon to bring up the print dialog. Make sure your printer is chosen in the "Printer Name" dropdown.

Look at the "Page Handling" section of the print dialog and make sure "Page Scaling" is set to "None". "Auto-Rotate and Center" should be selected to rotate the PDF document properly.

Click the "Properties" button to bring up your printer's settings. Check that your printer is set to use either Letter or A4 depending on the document format you are printing.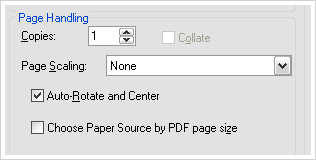 Verify the accuracy of your ruler
A simple way to verify that your printed ruler is accurate is to meassure a piece of paper of known size, such as a piece of Letter or A4 paper.

US Letter should meassure 8.5 by 11 inches or 215.9 by 279.4 mm.
A4 should meassure 21 by 29.7 cm.